Topics for discussion in serious manner.
The Mushroom War.
We know from the
Storyteller
that Ooo is missing a large portion (possibly due to a nuclear explosion hence the name Great Mushroom War,) but there is also a theory that the war was against aliens.
In
Death In Bloom
several UFO related paraphernalia is seen: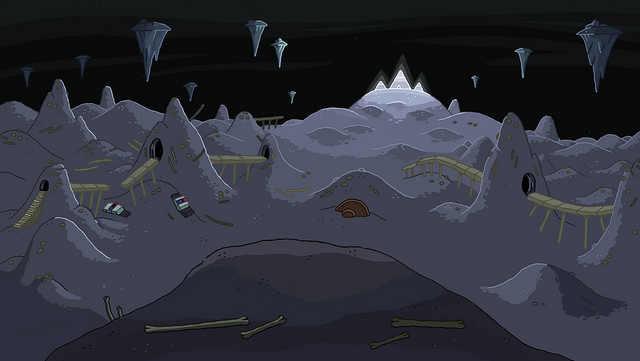 The Flying Saucer in the center of the above image hints to the possibility that the Mushroom War was fought against an invading space faring race. Though the race could have been humans who had discovered space travel. Either way it appears they forced many of the humans underground as most relics of pre-Mushroom War civilization is in underground areas such as the city under the sea in
Ocean of Fear
.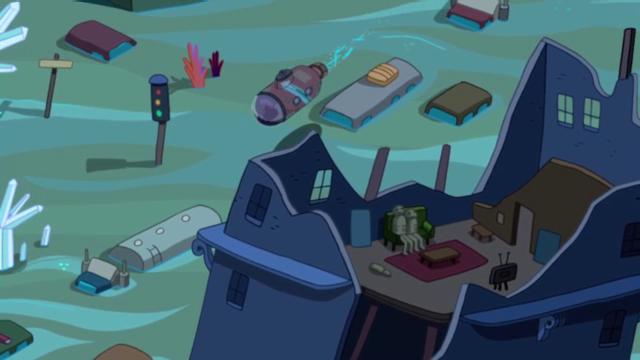 While Pendelton Ward has stated he will never directly address the Mushroom War directly in the show he has started to stray away from this with more and more plot points addressing the Lich after
Mortal Folly
and
Mortal Recoil
.
So is it possible for the space faring race that attacked Earth and turned it into Ooo will make a return or even that some of the members are still alive and hiding underground like the tribe of
Hyoomen Tribe
?
Ice King and Marceline.
Are they related?
Before you tell me I am crazy just take a quick look at the two.
They both were alive a thousand years ago and have stayed relatively close together yet never came in contact with one another. Also they looked similar and could have been mutated by the same blast. Only the Ice king's coming later during the onset of Nuclear Winter.
The Ice King is aware of Marceline and her problems with her father as he sings the Fry Song in
Holly Jolly Secrets Part 1
, this doesn't really prove how much they know about each other though.
Hudson Abadeer and the Ice King share similar traits, (both abuse their minions, both have the same skin tone, both have poor relationships with women etc.). While the Ice King is apparently from Scandinavian and Huson Abadeer is from North America as seen in
Memory of a Memory
and Marceline's refrigerator magnets: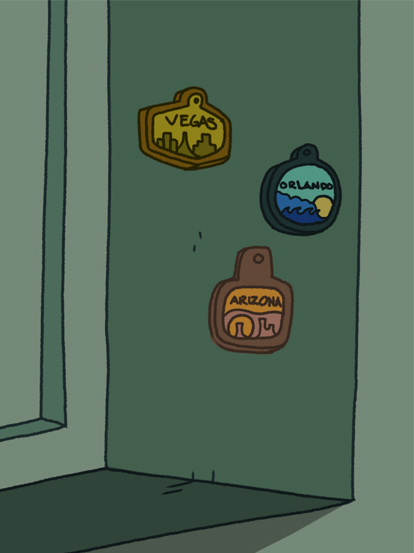 Also Marceline is the only royalty the Ice King has not kidnapped. She is Marceline the
Vampire Queen
it seems strange that he would leave her alone.
So what do you guys think are the Ice King and Marceline the Vampire Queen related?
Ice King and Dr. Princess M.D.
Another interesting fact is that the Ice King's former fiance Betty is strikingly similar to Doctor Princess M.D., though it has been confirmed that Ice King's love of princess snatching is due to him calling his fiancee princess is it also possible that he his searching for his fiancee? After all Docttor Princess M.D. was the only princess not to have any of her body disfigured and only her heart taken. The same heart that may have loved the Ice King.
Dr. Princess also is the only person interested in the Ice king's past asking him how he his wife died and receiving a nonsensical answer. That is of course before the Ice King kidnapped her.
Side by Side comparison of Betty and Doctor Princess M.D.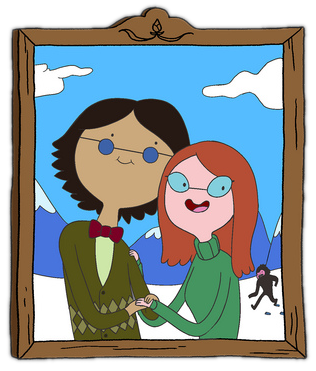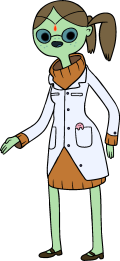 Finn's Parents
Jake's parents, Joshua and Margaret found Finn laying on a leaf crying with no evidence as to what happened to his parents. Finn had been left alone long enough to have soiled himself which caused him to become stuck to the leaf. Also had Joshua and Margaret found any dead bodies they would have acted differently around the child. Finn could either be abandon or his parents died nearby.
The Ice King often refers to Finn and Jake as his children, (especially in the episode
Princess Monster Wife
) but this could just be do to his insanity.
Susan Strong is the only other human in Ooo but has lived underground for most of her life. She is an unlikely canidate as Finn's mother for this reason.
Most likely Finn's parents are living along with
Ash's Dad
in
Mandyville
.
TL;DR This thread is SRZ BEANS on Adventure Time.